Spring 1988 – River North, Billy's father's home studio, Chicago
It Suites Me Well (The Vigil)
Nothing and Everything
Heart
Cross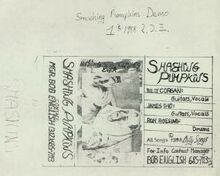 An early demo called Nothing Ever Changes.  The lineup included: Billy, James, and Ron Roesing (formerly of The Marked) on drums; this could be viewed as the very first recording that ceased to be The Marked and became The Smashing Pumpkins. "Heart" and "Cross" were originally two separate songs, but were joined together into one.  "It Suits Me Well" is actually "The Vigil".  Although a tape exists as the aforementioned four-song configuration, the original Nothing Ever Changes was about 60 minutes in length and was Billy's first attempt at a full-length album; it contained a combination of songs, spoken word selections (recalled as "bad poetry"), and instrumentals.
Return to Pre-Gish
Community content is available under
CC-BY-SA
unless otherwise noted.