December 2010-February 2011 - Pumpkinland II, Northbrook and Coldwater Studios, Los Angeles
Edit
Produced by Billy Corgan and Kerry Brown; engineered by Bjorn Thorsrud
The third set of recording sessions for the Teargarden by Kaleidyscope project. The band's line-up now included Corgan, Jeff Schroeder on guitar, Nicole Fiorentino on bass and Mike Byrne on drums.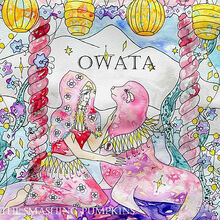 Kerry Brown: Wow, It has been an insane week at Coldwater Studio and it's only Wednesday night! On Monday and Tuesday The Smashing Pumpkins came in to finish recording the next two Teargarden by Kaleidyscope songs. Billy, Nicole and Mike recorded backing vocals that sound amazing. I have never heard big backing vocals on a Smashing Pumpkins song, it is a really cool new direction for the band. I would like to tell you what songs we recorded but then Billy would have to kill me and I am not yet ready to meet my maker.
Side Note: I have been in the recording studio for almost every SP record and never have I seen such positive band chemistry. It is very refreshing.[1]
Jeff Schroeder: "The last two songs on Teargarden, Lightning Strikes and Owata, were the first times the four of us recorded together. Oddly enough, it took what seemed to be a crazy-long time to do two songs. When you're working piecemeal, you can lose focus on the big picture. So doing Oceania was more in line from what I grew up with. I'm an album guy." Billy told me that a couple of the new songs happened spontaneously in the studio.[2]
Return to Teargarden by Kaleidyscope/Oceania
↑

Kerry Brown, glittercop blog, December 15, 2010

↑

Joe Bosso, "Jeff Schroeder on guitars, amps, effects and the new Smashing Pumpkins sound", Music Radar, October 23, 2012
Community content is available under
CC-BY-SA
unless otherwise noted.