Fall 1995 - Pumpkinland and Soundworks, Chicago
Produced by Billy Corgan and Jeff Moleski
Post-album b-sides recording sessions at Pumpkinland and Soundworks. Aside for recording songs that were lost in the shuffle of Mellon Collie album tracks, some overdub work was done to others which were unfinished from the Pumpkinland/CRC sessions ("God", "Cherry", etc).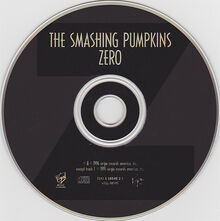 Billy Corgan on "Marquis in Spades": The band never really liked this song. They were always snickering at it, but I always liked its sheer brutality. It was recorded live on my 8-track cassette recorder, on which I've done almost all my demos since before Gish.
Billy Corgan on "Medellia of the Grey Skies": originally titled "E.P.," this song was briefly considered for Mellon Collie as a companion piece to "Porcelina of the Vast Oceans." I could never seem to finish the lyrics until right before it was recorded, live with my pals from The Frogs. This song turned out must more beautiful than I ever dreamed possible, teaching me yet another lesson in spontaneity.
Billy Corgan on "Mouths of Babes": During the year and a half of Siamese Dream touring, we tried to work on all sorts of new songs. From all the endless jams and tapes, this song and "Marquis in Spades" were the only ones that survived. A favorite at soundcheck with nonlyrics forever. Another heavy metal victim, or at least too much like a Siamese Dream track.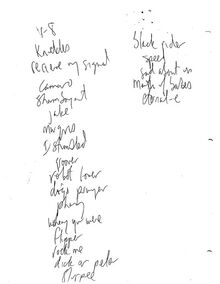 Billy Corgan on "Pastichio Medley": This is our growing infamous riff collection of practically, but not almost, every idea that was attempted for Mellon Collie that didn't even make B-sides status. I sorted through hundreds of hours of rehearsal and album tapes, and kind of randomly ran small bits all together to create a pastiche of madness. The original titles were all used.
Billy Corgan on "Pennies": One of those songs that I write in 10 minutes and can't seem to shake off. I like this song a lot, and find myself humming it about the house, as it is a very rare example of actual Pumpkins humor in a song. Recorded live to a 8-track cassette, with a few acoustic 12-string overdubs just to give it a little zing. This was our second choice for a take; the better take was lost when the engineer forgot to press "record."[1]
Return to Mellon Collie and the Infinite Sadness
↑

Billy Corgan, "King Bs", Guitar World, January 1997
Community content is available under
CC-BY-SA
unless otherwise noted.