August 1995 - Bugg Studios, Chicago
[
]
Produced by James Iha and Kerry Brown
James' b-sides for the Mellon Collie singles were apparently recorded at his home.  
James Iha: Well, we finished recording the record and Billy, Flood, and Alan Molder went straight to L.A. to start mixing. So right afterwards I did about another 11 days of recording in a studio doing b-sides with Kerry Brown. We did about 6 b-sides, two of which didn't work out. On one song I did a duet with Nina Gordon from Veruca Salt. That's going to be the first b-side from the first single. That was pretty fun. She's sings really well. She can sing better than me, that's for sure! [1]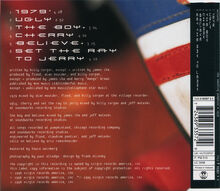 James Iha on "Believe": This was another song recorded the day after the music for the album was done. It's supposed to be an uplifting song, but it had this undercurrent of longing, depression, sadness, etc....The opening guitar was played on a Gibson J-100XTRA, which has got this great, wide-open sound, and there's a clean electric guitar doubling it but mixed way back to give a chorusing "sparkle." There are also two bass guitar tracks on most of the song, played on a weird Epiphone bass that I bought for a hundred dollars at a pawn shop, and which also got used a lot on Siamese Dream. On the track, one plays chords high up and the other just plays the root notes to give it some weight.
James Iha on "...Said Sadly": A fun song to write and record. It's sort of my version of a country duet song. I recorded this the day after we finished the music for the album, and had a friend of mine, Nina Gordan (of Veruca Salt), sing with me because she's got a great tone and character in her voice. The guitar fills and slide guitar are in the style of Derek & the Dominoes, Clarence White, the Byrds and the Allman Brothers. We did one track of guitar fills with a Les Paul through an MXR phaser with a clean sound, as well as another track of Les Paul slide guitar which gives the song kind of a romantic sound, most of which was done in one or two takes.
James Iha on "The Boy": This is a New Wave song that has the power-pop Jazzmaster with a warped neck that looks cool but isn't really good to play. There's also this funny guitar-drum break in the middle of the song where I hang a chord and use the whammy bar. Flood liked this song but it just didn't fit the album.[2]
Return to Mellon Collie and the Infinite Sadness