November 2000 – Chicago Recording Company
Produced by Billy Corgan; Engineered by Howard Willing
The Imploding Voice (acoustic)
Vanity (acoustic)
Final recording session of the original Smashing Pumpkins, a final goodbye to fans.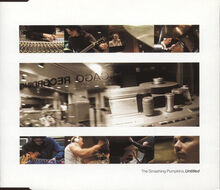 The final track recorded by the original Smashing Pumpkins line-up in 2000, "Untitled" was semiacoustic home cooking that rekindled the vibes of Gish and Siamese Dream. The chain for Corgan's solo, one of his favorites, features a DOD FX84 Milk Box compressor and a Shin-Ei Companion Fuzz Wah. "The song was our way of saying 'f**k you' to all those people who thought we'd somehow lost our minds and weren't able to return home," says Corgan. "We were in the studio for what appeared to be the last time, so it was very emotional, and we had only three days."[1]
Return to Machina
↑

Richard Thomas, "Signal To Noise: The Sonic Diary Of The Smashing Pumpkins", Electronic Musician, October 1st, 2008
Community content is available under
CC-BY-SA
unless otherwise noted.