September 12, 1993 - BBC Radio One Studios, London
Produced by Ted de Bono; Remixed by Billy Corgan and Jeff Moleski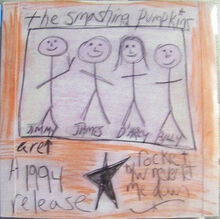 Recording sessions for BBC radio. While both "Landslide" and "Never Let Me Down" were released as b-sides, "Quiet" was included on the Siamese Dream Remaster. "Disarm" remains unreleased but available on bootlegs.
Billy Corgan on "Landslide": is a stevie nicks song. i fell in love with this song and forced myself to learn it XXX because i'm very bad at figuring out songs by other people. of course i learned it totally the wrong way and after it was recorded jimmy from the frogs showed me the easier way to play it. this song is very relevant to my life at the moment still, and that is why i love to sing it. Landslide was recorded at the bbc, not my most most favorite place to record. they are still in 1971 but todd the producer man was very nice. the recording is way too hissy and we're sorry but it is the fault of the bbc, whose financial raping of us to use this song and sandoz almost didn't make putting these songs out possible. but it is here,[1]
Billy Corgan on "Landslide": Needing a song for a bbc session, i sought out one that was familiar to me yet unknown, falling in love with the original fleetwood mac version as written by stevie nicks. bbc sessions were booked then as 4 hour ordeals where you would be expected to crank out your 4 numbers lickety split; and not for heavens sake go a minute over. heavy pressures and vibes were placed on the session always to hurry, hurry, so by the time i got around to recording this i had only 20 min left. i had learned the guitar part from the record, having no idea that the original was capo'd up, and so accommodate i tuned the guitar all funny. i did the rhythm in one take, playing a solo without knowing what key the song is to the track barren with vocal. i sang two takes, listening back in the control room and summarily declaring 'use the front half of take one, and the second half of take two' before walking out the door on the hour. i was shocked when this song became a hit, a success not supported by a video, and further amazed when it landed me an audience with stevie; who sang next to me in her home as we sat at the piano. [2]
Return to Siamese Dream
↑

Billy Corgan, Pisces Iscariot liner notes, October 1994

↑

Billy Corgan, Pisces Iscariot Remaster liner notes, July 2012
Community content is available under
CC-BY-SA
unless otherwise noted.