Summer 1996 – Soundworks, Chicago
Produced by Billy Corgan; Engineered by Jeff Moleski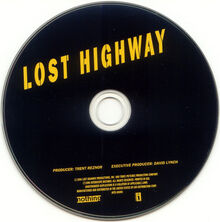 Sessions for the Lost Highway Soundtrack.   Billy actually recorded two songs for the film. The second was an early version of Tear, which was rejected.  Overdubs to the March Charing Cross sessions in Australia were probably done around this time.  This may or may not be a part of the previous Adore demo session. 
Most people know "Eye" as the electro-rock crossover from the popular David Lynch film, but the track began as an instrumental for Shaquille O'Neal. The two were linked up by a longtime friend of Corgan's. Being a big sports fan, Corgan was up for the challenge. He concocted the instrumental before speaking with Shaq, but the two weren't able to meet up to seal the deal. Lynch, on the other hand, thought it was perfect for Lost Highway. The track relied heavily on a Kurzweil K2500 for its 808-styled percussion, a Waldorf VST for the synth line, and a 12-string acoustic lined in direct.[1]
Bowie's and Reed's contributions to Lost Highway were recorded for other projects, but "Eye," the hypnotic, drum-machine-driven Smashing Pumpkins song, was a commission—and a last-minute one, at that. After failing to obtain the rights to The Pixies' "Ana," Lynch charged Smashing Pumpkins frontman Billy Corgan with writing an original song for the film; Corgan presented him with an early version of "Tear" from the group's electronica-driven album Adore, only to be told, as Corgan puts it in a 2009 video interview for the David Lynch Foundation, "It's not going to work, Billy." So Corgan, scrambling to come up with another song in a hurry, dug up a repetitive, Dr. Dre-inspired drum-machine track he had recorded for Shaquille O'Neal and reworked it into "Eye." So next time you watch Lost Highway and Pete and Sheila are slow dancing, remember that in a Lynchian alternate reality, Shaq is rapping over that beat.[2]
Return to Adore
↑

Richard Thomas, "Signal To Noise: The Sonic Diary Of The Smashing Pumpkins", Electronic Musician, October 1st, 2008

↑

Katie Rife, "Lost Highway put David Lynch Onto America's Car Stereos", AV Club, May 23rd, 2017
Community content is available under
CC-BY-SA
unless otherwise noted.